Facebook is one of the top photo sharing social networking sites on the web. Incase you want to backup all your photos or you have lost some of them. The below tools will help you to download your uploaded photos. Below are the 3 tools to download your photos from facebook
This handy little desktop application is easy to use for either your own photos, or tagged photos in friend's albums. All you have to do is download the program, start it up on your desktop and give it access to your Facebook account. This is done through the same kind of sign in authentication you get when you post under a social networking account on a third party site.
Once you have it up and connected to your account, you can select what photos you want and of who. For example, you can choose to download all tagged photos from an entire album, including comments, and then say who of. It should give an entire list of your friends to scroll through.
A bit of a larger program, this interesting app lets you download it onto your desktop and then access it like any other piece of software. It connects to your Facebook account through a direct sign in similar to the one used by PhotoGrabber. It also has many of the same features as that program, such as being able to download other people's albums.
However, there is a 'Find My Photos' button that makes it easier to seek out your own tags. It will also go through community and fan pages to look for anything that has you tagged in it. You can even customize your selection more fully, and then download that rather than the whole lot. Which can make it a space and time saver.
Link for Download


Download Your Facebook Pictures with Pick&Zip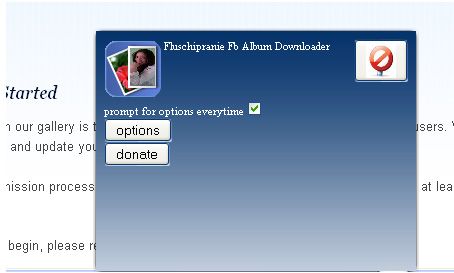 This is a great add-on for Firefox that is still technically in the experimental phase, but still rather good. It works by allowing you to right-click on an album and select to download it through the add-on. It almost always works, and is a fast download system that takes no room on your desktop and can be easily removed if you decide you no longer need it.
There are a couple of issues with it. One is that it has trouble with certain language characters, such as Chinese, Arabic and Hebrew. Hopefully, this will be fixed in an update. There are also occasionally problems with downloading extremely large albums, but this is rare.
DOWNLOAD SOLUTION HERE